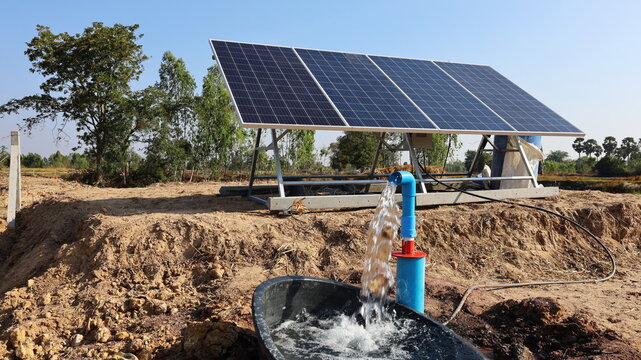 AFFORDABLE AND RENEWABLE ENERGY FOR SMALLHOLDER FARMERS THROUGH SOLAR WATER PUMPS
Aug. 21, 2023, 10:05 a.m.
Agrotech Plus, based in Nairobi, Kenya, sells the AgroSolar Irrigation Kit (ASIK), an entirely solar-powered drip irrigation system that makes it easier and cheaper for farmers to grow a wide variety of crops. The kit combines solar water pumping technology with high-efficiency drip irrigation and includes everything a farmer needs to grow more while spending less, in a sustainable and energy-efficient way. As a result of switching to solar irrigation, smallholder farmers will realize significant benefits. These benefits include increased production of higher value produce, cost savings, and more efficient use of time. Time saved on farming and water gathering can be directed to other more productive activities. In addition, Agrotech Plus's system has environmental benefits–in the next year, current Agrotech Plus farmers will save 1.9 billion liters of water and generate over 64,000 kilowatt hours of power annually–all this while growing over 8.4 million kilograms of fresh fruit and vegetables.
CHALLENGE
96% of Africa relies on rain instead of irrigation for agriculture, resulting in 50%+ lower yields than the rest of the world. This translates into African farmers earning only $600-$1,000 per year and Africa projecting to spend $110 billion in food imports in 2025. There is abundant climate-resilient groundwater within 30 meters below ground across Africa. However, due to a lack of affordable and sustainable solutions for smallholder farmers (60% of the population) only 4% of cultivated lands is irrigated, vs. 37% for Asia. Total area under irrigation from groundwater could be expanded 20x across Africa and 120x in 13 African countries (13.5mn hectares).
As a result, the agricultural production in Africa is almost entirely dependent on rain or hand carried water, typically collected by women and girls. Rainfed agriculture results in >50% lower yields, only low value crops being grown, and a high proportion of unused arable land. In addition, with climate change, rainfalls have declined more than 100mm annually since the mid-1970s, making rainfed agriculture even less productive. This translate into African farmers earning $600-$1,000 per year and spending 17 hours per week physically moving water to meet their basic domestic needs.
SOLUTION
Agrotech Plus's popular solar-powered water pump, offers more than double the amount of water than its predecessor and a longer lifetime of ten years. it enables farmers to increase their land under irrigation and can lift water from rivers, wells, or boreholes up to 210 feet deep. The Pump operates reliably during extended cloudy periods, enables pumping during the afternoon and evening for increased irrigation effectiveness, and drives high-pressure sprinkler irrigation systems directly without the need to install expensive water tanks.
Agrotech Plus also provides value added services and financing for the Solar Powered Pump, making it the only company in Africa offering this one-stop-shop solution. Agrotech Plus's customers increase their incomes by 5-10x.